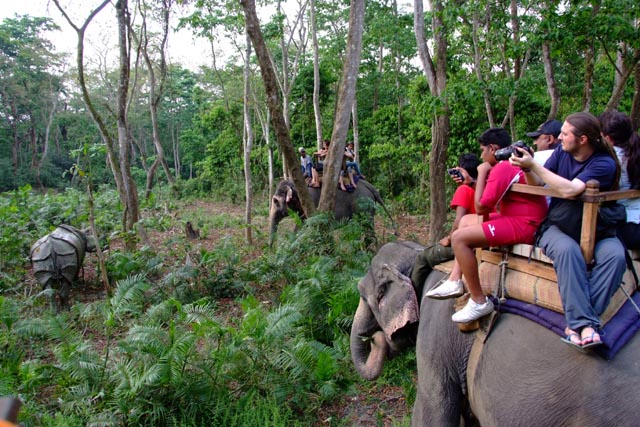 Royal Chitwan National Park is the most popular destination for tourists wanting to have a good experience of the region's wildlife. It was declared a National Park in 1973. In 1984, UNESCO designated it as a Natural World Heritage Site. The Park offers protection to 50 species of mammals including the one-horned rhinoceros, Bengal tiger, leopard, sloth bear, wild elephant, striped hyena, Gangetic dolphin and wild bison. There are an estimated 50 species of mammals, over 526 species of birds, 126 species of fish,150 species of butterflies and 49 species of reptiles in the park! A recent study also points out that over a third of Nepal's tigers are in Chitwan.

The Park is spread over an area of 932 sq kms and located in the lowlands of the kingdom. The forest cover is predominantly sal, interspersed with tall grasslands, small bills, ox- bow lakes and flood plains.

The best time to visit Chitwan is from October through February, when the temperature averages 25 degrees Celsius. The months of March - June can be extremely hot, while July- September is the monsoon season when rivers swell and parts of the park are inaccessible.


Excellent jungle lodges, resorts, and camps available


Explore by elephants back to see rhino, deer,
crocodiles, and on rare occasion a Tiger. Cultural activities too.

Trip Itinerary
Outline Itinerary
Day 01: Drive to Chitwan national park and pick up from arrival point and welcome drinks, check in – Lunch andbriefing session
Visit to Tharu Village and elephant stable
Riverside Sunset view
Tharu stick dance
Dinner
Day 02:
6.00am: Wakeup Call
7.30am: Breakfast and Elephant Back Safari
12.00pm: Lunch
14.00pm: Canoeing Ride, short jungle walk and Elephant Breeding Centre Visit.
7.00pm: Dinner
Day 03:
6.00am: Wakeup Call
7.00am: Breakfast, elephantbathing
12.00pm; Lunch and excursion in the Park by jeep and village tour, free time for refreshment
7.00: pm: Dinner
Day 04:
6.00am: Wakeup Call, Tea/ Coffee
6.30: Bird Watching
8.00 am: Breakfast
9.00am: Departureto youronward destination.
Established in 1973, Chitwan National Park (a UNESCO world heritage site) which is located in the lowlands of south- central Nepal is rated as the best park in Asia and by far the most popular wildlife sanctuary in the country. It also bears significant historical importance. The park preserves a unique ecosystem significantly valuable to the whole world. This 932 sq. km area of low, heavily forested hills is a great place to relax and experience something different in the tranquility. Visitors will be going into deep jungle on elephant back or four-wheel drive vehicle to view wild animals in their natural habitat. Other thrills are canoe ride, nature walks, birds watching excursions, and village tours and in the evening local Tharu people perform their cultural dance by the fire or the expert naturalists introduce you with the history of parks, animals, birds etc. through slide shows or orientation program.
This National Park offers dense habitat wildlife & natural beauties and can be explore the many wild animals as Royal Bengal Tiger, Leopard, one horned Rhinoceros, wild Elephant, marsh Crocodile, wild Boar, sloth bear, and several species of deer including spotted, barking, Samber and hog deer. Also can be find more than 350 species of birds with good flora. Besides wildlife can be found local tribes called Tharu people, who have own unique culture and traditions. This also may chances to explore the local village during your Chitwan Safari.
While visiting in Chitwan National Park visitors have many choices to choose an accommodation in hotel or tent. A visitor has option to choose the location while in Chitwan. Basically this National Park has spread out widely and Resort/lodges are settled outside and inside the national park in the different areas. All the Resort & lodges are welcoming you for your comfort accommodation with perform many jungle activities for their guest. We are offering this trip in the ideal timeframe for your Jungle Safari at Chitwan National Park.
Trip Inclusion
Jungle Activities
1) Elephant back ride or jungle drive 4 wheeler vehicle
2) Jungle walk
3) Bird watching
4) Tharu stick dance
5) Canoe ride on the Rapti river
6) Tharu village walk
Trip Exclusion
Activities
We offer the following activities in the Park.
Elephant back ride/Jeep drive
1) Jungle walk
2) Bird watching
3) Tharu stick dance
4) Canoe Ride Hotel & Costs
Extra Services
Best time:
The best time to visit Chitwan is from October through February, when the temperature averages 25 degrees Celsius. The months of March, April and June can be extremely hot, while July- September is the mon-soon season when rivers swell and parts of the park are inaccessible.
Access & Accomodation
RNAC has daily flights from Kathmandu to Meghauli ($72 each way), and flights to Bharatpur ($61) each way. If you want to stay at Sauraha, the budget accommodation place for Chitwan , get to Tadi Bazaar , located 15 km east of Narayanghat on the Mahendra Highway . Royal Chitwan National Park is easily accessible by road from Kathmandu , connected as it is by a national highway from Bharatpur to Sauraha.
The other exciting way to get to Chitwan is to take a 2-3 day rafting trip down the Trishuli river to Narayanghat, or directly into the western edge of the park.
There are plenty of jungle lodges and hotels in the around Chitwan . The lodges in the park are expensive. For budget accommodation , look around Sauraha and take your pick of a range of good lodges. Check list of
Resorts or guest houses.
What to Bring along? Check gears!
How to get there??
This is the most closest Park in distance from the capital city Kathmandu. It takes approximately 5 hours by overland drive or 20 minutes flight.
What to Bring ??
Chitwan has a tropical monsoon climate with high humidity throughout the year. In winter (December, January, February) the temperature falls down to 2 degree to 3 degree Celsius at night therefore warm clothes are essential. However, surprisingly sunny days are warm ranging from 15 degree to 20 degree Celsius. Duny Summer, sunhat, sun glasses, sunscreen, lotion, insect repellents, raining season July, August and September raincoat is a must. Binoculars and some reference books on chitwan's flora and fauna will be an advantage.
Related Trips