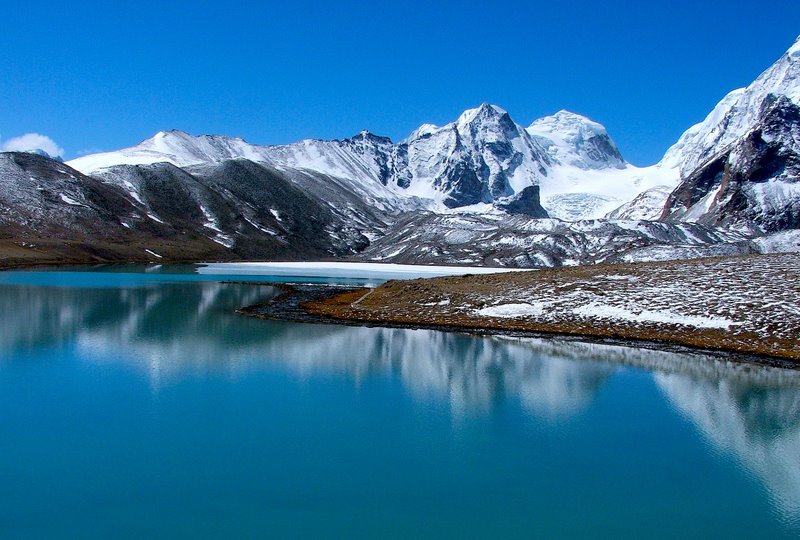 History:
Sikkim, once the independent Kingdom, was ruled by Namgyal dynasty, Chogyal, for more than three hundreds years. The last ruler of the Sikkim was Palden Thundop Namgyal and the monarchy was ended in 1975. The Kingdom became 22nd state of republic of India on 26th April 1975.
Natural:
The state is heavily forested and abounds with the wildlife, rhododendrons and greater verities of orchids and wild flowers. About one third of the total area is covered with forest and is traversed by the main range of the Himalaya. The bio-diversity of the area ranges 250m above sea level to 8586m, summit of Mt Kanchenjunga, third highest mountain in the world.
Geography:
Sikkim is located in the north-eastern part of the India. The area of this land is 7096 sq. Km and is bounded by Tibet Autonomous region of China in the north and north-east, Bhutan in the north-south, West Bangal in South and Nepal in the west.
People:
The total population of state is approx 420000 and main inhabitants are Nepalese, Bhutia and Lepcha. Sikkimis and Nepali are principal local language where English is thenational language. Buddhisum and Hinduism are the principal religion. Agriculture is the main source of income for Sikkimis people where Tourism is also a growing industry.
Entry procedure: Indian Visa is required to enter Sikkim, and it can be obtained from the any Indian Embassy and consulate office around the world. A two copies passport sized photograph is required to proceed the application form and visa is normally valid for 6 months.
Access:
Indian airline has a greater linkage to reach Sikkim, Baghdora airport is the only nearest airport and is 124 KM far from Gangtok. Domestic airport in Bhadrapur, Nepal is second nearest airport to reach Sikkim and is 146 KM far from Gangtok. Well road connection made easier to reach Sikkim.
The Paradise of Eastern Himalayas.

Sikkim, hidden valley of rice or "Bayul Demojong" known locally, is one of the most enthralling spots in the Himalayan region. This tiny state of the Union territory of India is inhabited by Nepalese, Lepchas, Bhutias and Tibetans, surrounded by the Tibetan Plateau in the north, Nepal in the west, Bhutan in the east and west Bengal along its southern border. The world's third highest mountain Khangchendzonga (8,586m), which falls in Nepal, is accessible from this remote mountain region as well.

Sikkim, through the passage of time, has retained its original character and preserves its glorious cultural heritage. Sikkim unrolls most exciting of beautiful carpets for adventure trekkers. That is why a thoughtfully planned trek to Sikkim is rightly classified as a very special outing for those who are fond of Himalayan flora & fauna. Sampurna Aventura offers the Package Tours to Sikkim and Darjeeling and along with Himalayan Kingdoms Nepal & Bhutan. For detail itinerary and information please e-mail us.
Location :Located in between the Kingdom of Nepal in the west and Bhutan to the east, Sikkim covers an area of about 7300 sq. km. (2800 sq. miles). Once a tiny Himalayan Kingdom, with a monarchy, is now metamorphosed as one of the states of India. Reaching from a low of 250m (800ft) above sea level up to a permanently frozen 8,586m (28,167ft) Mt Khangchendzonga, Sikkim nurtures ecosystems of nearly every elevation strata. The Khangchendzonga can be seen from almost any part of Sikkim, thrusting its mighty shoulders high above the lush verdant valleys. Sikkim is also world renowned for its orchids with over 600 species in and around the region. This orchid sanctuary in Gangtok displays over 200 species.
Sikkim